Fiji Post Disaster Needs Assessment (PDNA) Released and World Bank response after Tropical Cyclone Winston
Namuaimada village, Ra Province, Viti Levu Source: Vlad Sokhin/World Bank
July 2016 - Following the ACP-EU NDRR Program supported PDNA carried out in Fiji between March 29 and May 10, 2016 damage and loss estimates have been now produced detailing the extent of TC Winston's impact, estimated at US$1.38 billion (31 percent of GDP), including US$959 million to Fiji's productive, social and infrastructure sectors. Nearly 130,000 homes were damaged or destroyed, affecting approximately 15 percent of Fiji's total population. The final report can be found here.
The PDNA has additionally helped to garner significant funding in the form of the Fiji Post-Cyclone Winston Emergency Development Policy Operation, a US$50 million loan from the World Bank to aid recovery from the immediate impact by addressing the recovery needs identified in the PDNA, which include the construction of resilient houses and public infrastructure designed to withstand future shocks.
This response program, approved by the World Bank on June 30, 2016, will also support the Government of Fiji's comprehensive review of its immediate response, which has centered on efforts to protect the most vulnerable through household-level cash transfers as well as reinforcing the country's broader cyclone-recovery efforts. This comprehensive review will help inform Fiji on the most effective approaches to mitigate the impacts of future natural disasters through the provision of disaster responsive social protection.
Rwanda Risk Atlas Documentary Released
June 2016- Following the launch of the Rwanda National Risk Atlas in September 2015, a video documentary has been produced highlighting the key results. Both the atlas and video were developed thanks to the financial support of the ACP-EU NDRR Program.
The National Risk Atlas of Rwanda focuses on five main hazards: drought, landslide, flood, earthquake and windstorms. It highlights the different levels of vulnerability and exposure in relation to these hazards throughout Rwanda as well as outlining key mitigation recommendations designed to reduce risk.
The video can be found here - part one and part two
Please find the Rwanda Risk Atlas here
Solomon Islands Community Resilience to Climate and Disaster Risk (CRISP) Project Video Released
May 2016 - The five-year project known as CRISP was launched in 2014 under the Solomon Islands Government, through the Ministry of Environment, Climate Change, Disaster Risk Management and Meteorology, with the financial backing of the ACP-EU NDRR Program and Global Environment Facility fund for Least Developing Countries.
The project aims to address natural hazards and climate change risks by strengthening climate and disaster risk information, early warning systems, and direct community investments in climate change adaptation and DRR.
As a result of work on supporting community and provincial sub-project investments, the disaster resilience of the Nanngu community has been significantly enhanced. Tropical Cyclone Nina destroyed the Nanngu island water supply system in 1993, and for 20 years since the community often relied on inadequate rainwater tanks to meet their needs. Thanks to the project, Nanngu community members and project engineers jointly implemented a new comprehensive water supply system with greater redundancy, a water source 83 meters above sea level, and enhanced resilient-construction of standpipes using high quality materials designed to withstand natural hazards.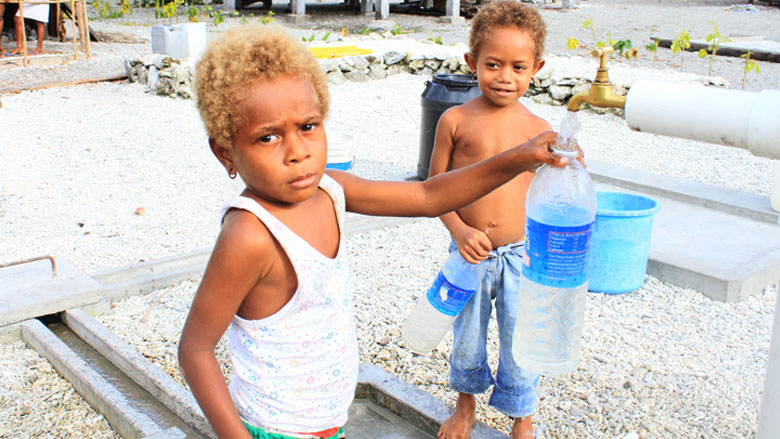 Source: World Bank
This new water system will help to make Nanngu more resilient to the threats posed by disasters and climate change, and allow community members to better pursue economic activity, as well as improve education and health services.
The video can be found here.
2014-2015 ACP-EU NDRR Program Activity Report Released
March 2016 - The 2014-2015 Activity Report of the African Caribbean Pacific - European Union Natural Disaster Risk Reduction Program (ACP-EU NDRR) provides an overview on how the Program continues to scale-up its support to disaster-prone ACP countries through technical assistance, capacity building and knowledge sharing. It outlines the progress of Program implementation and achievements by region, and on post-disaster response while also including feature highlights on lessons-learned from projects in the Indian Ocean islands, Dominica, and Vanuatu. The report captures how after over four years of implementation, the Program has developed an extensive portfolio that benefits more than forty countries in Africa, the Caribbean and the Pacific. Available in both English and French, to read the full report, click here.
2015 GFDRR Annual Report Released
January 2016 - The 2015 GFDRR Annual Report: Bringing Resilience to Scale compares the progress and results that have been made against GFDRR's work plan from July 2014 to June 2015. It is structured through its five pillars of action: Risk Identification, Risk Reduction, Preparedness, Financial Protection, and Resilient Recovery. The report also provides an overview of the organization's thematic and special programs, most successful disaster risk management (DRM) initiatives, and showcases GFDRR's role in contributing to knowledge building and collaboration activities to advance the global agenda on DRM. A highlight on the work of the ACP-EU NDRR Program can be found on page 64. Click here for the full report.
Disaster Risk Financing and Insurance (DRFI) in Dominican Republic
November 2015 - A study on the status and opportunities on disaster risk financing and insurance in Dominican Republic has been published under the Mainstreaming DRM and CCA in Public Investment, Territorial Planning and Public Finances Project, financed by the ACP-EU NDRR program. The publication, prepared in partnership with the Ministry of Economy, Planning and Development, analyses the fiscal and economic impact of natural disasters in the country mainly based on historical information.
The study shows that potential annual average losses associated with earthquakes and cyclones can add up to $670 million, equivalent to 1.1 percent of GDP in 2013 and provided some short and medium term options to strengthen the financial protection of the country against disasters.This study will set the basis for developing a national disaster risk financing strategy.
The report can be found here (available in Spanish only)
Understanding Risk, Financing Resilience in Sub-Saharan Africa